On Tuesday April 25, we went to school. But we weren't writing tests, and while we did give a few speeches, the most important thing is what the students did. Over the course of one school day, a group of about 50 students at Burnaby South Secondary — featuring students from the Burnaby School District's Career Education Computer Networking Technician Program — spent the day with us and a few volunteer engineers from UBC, and built LipSyncs.
And we had two people go out the door with a newly-built Lipsync, all ready to go.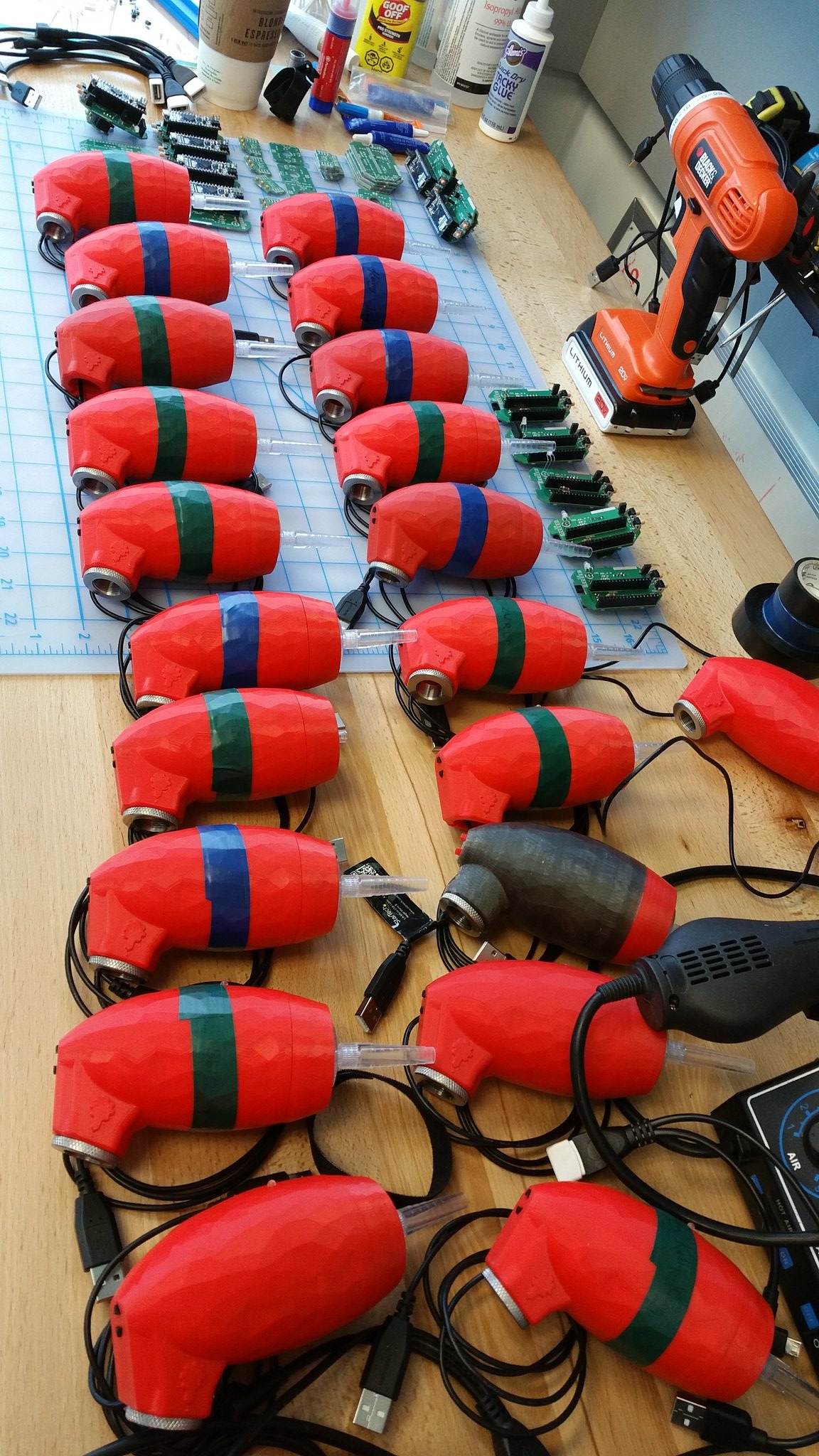 When the day started, we had told the crowd of students that we had brought enough kits for 25 LipSyncs to be built — we'd would have been happy if we walked out with 15. So it was a pleasant surprise when the final count was done and 22 were built. And the majority of those are ready to ship out to people in need. Some of the others need just minor tweaks that our engineers can easily fix.
It was a win-win-win for everyone in the room. The students got to apply what they were learning in the classroom into something that is not only practical, but helps people. From our end, we have a growing list of people who need LipSyncs, and we need to get them built.
And for Jim — who was a team captain at our Access Makeathon — and Terry, who came in to talk to the students, it meant going home with one. It was also great for the students to see the direct impact their work had. Both Terry and Jim began using the LipSync and showed the students how it enabled them to access their laptops and cell phones.
This time, we had split the students into different tables focusing on different parts of the building process. From our experience at previous Buildathons, we learned that the FSR joysticks are quite delicate and easy to break — it was the barrier preventing more LipSyncs from being operational in previous builds. So we some students who were more experienced start on the joysticks. It meant that joysticks weren't the last part built necessarily, when the builder is tired, when the soldering iron is hot.
And it wasn't just the high success rate that we were happy with, but the speed and enthusiasm the students had.
Angela, who had spent a few days with us building a LipSync in November and had given us helpful feedback on our instructions, was one of the student builders. The instructions were a lot easier to follow than when she had initially built one.
"The manual is a lot easier to understand than before," she explained. "It's straightforward, it's got pictures — you know what you're supposed to be looking at."
She began the day working on the FSR joystick. When she was with us last, we were using a different joystick.
"My first one took a while," she said of building an FSR joystick. "But the second one was a lot faster, specifically because I worked with someone else, and we figured out what our strengths and weaknesses are."
It was a nice break from studying for exams.
"It's a stress reliever, because I've been stressed out about school lately," she explained. "So getting to do this, and knowing it's good for the community, and knowing that I'm contributing to the community, and helping the people who need this stuff is really encouraging."
For Angela, who is heading to Ottawa in May as one of 50 students from across Canada going to the Rick Hansen Foundation Youth Leadership Conference, the day was especially important. Her brother has a disability and she knows firsthand the importance of the LipSync and similar projects.
"I've always wanted to give back to the community," she said. "My brother has been helped so much by the people around him, by the government, and by non-profit organizations."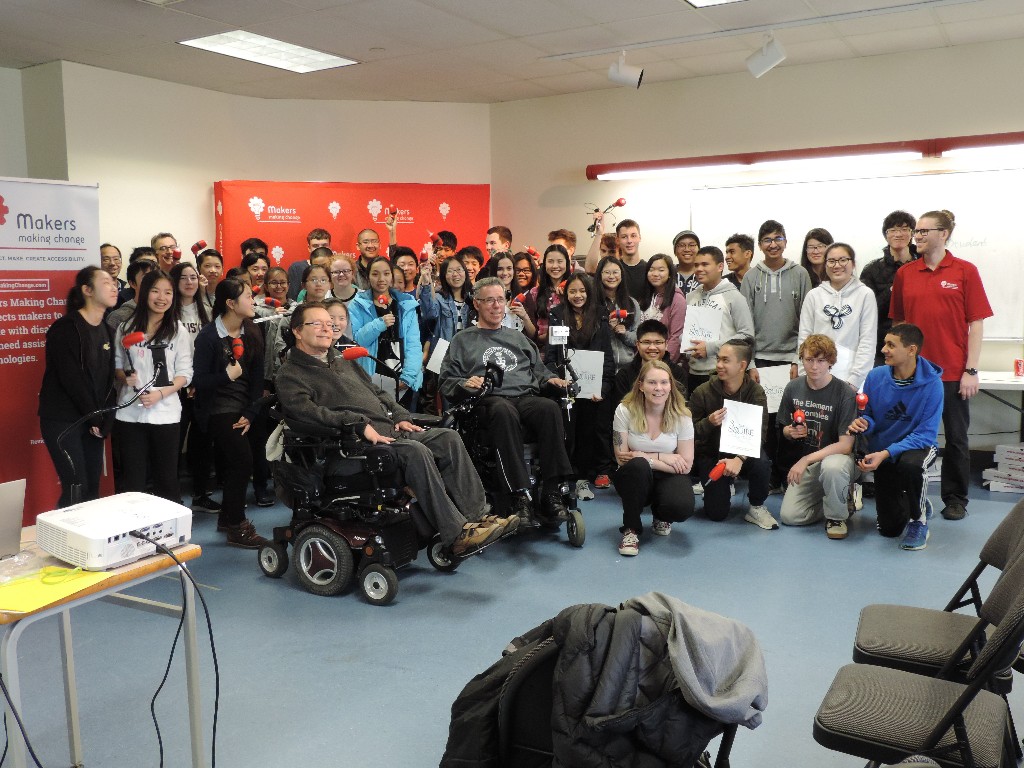 We would like to thank the Burnaby School District for working with us. Before the event, we've had a couple of school districts reach out to us for similar events, but we were hesitant until we had done one. But it was safe to say that it was a great success. Thanks to all the students and teachers who participated, to the UBC engineers who volunteered their time, and of course, our incredible group of engineers and staff at the Neil Squire Society and Makers Making Change initiative.